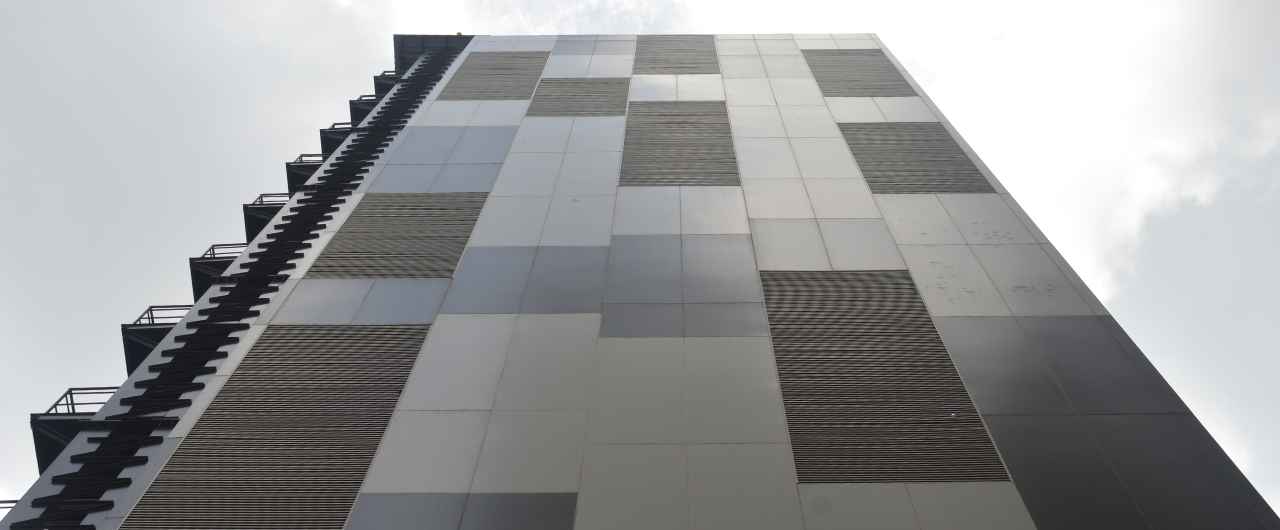 Tower Parking
The premium fully automatic parking system that takes a vertical approach
The KLAUS Tower parking creates multiple spaces in a small footprint
An automatic tower system from KLAUS Multiparking is always the right choice if little floor space is available. Rather than being wide, the tower system is either tall or deep – a lift transports your vehicle to a free parking space, where it is safely parked. It stores cars at multiple levels. KLAUS Tower is the premium solution for short access times that uses a minimal amount of floor space. An additional vehicle turntable inside the entry room means that you never need to reverse your car. From standard cars to SUVs, the system recognizes the height of your vehicle and finds the appropriate parking space for it.
In addition to systems for standard car dimensions and weights, customized solutions are available on request. Of course, in many instances, the system can be adapted to your individual project requirements.

All the information relating to
Tower Parking
Specifications:
Suitable for all passenger cars according to the clearance and maximal surface load
Maximum Weight Carrying Capacity: 2000kg – 2500kg
Allowable Car Height: 1.5m – 1.7m
Platform Width: 1.9m – 2.0m
For more specific information, please download a complete datasheet of the product.
Key Benefits:
Ideal for residential buildings and commercial projects
Increases the capacity of underground parking spaces at hospitals, malls, cinema halls, hotels etc.
The amount of space used can be reduced by up to 50 percent – compared to conventional parking spaces
Leaves the building space that is saved for additional parking spaces or more profitable purposes
Reduction in construction time
Customizable in both steel and RCC structure
Can be fit into the footprint of 3 cars
Extendable up to 25 parking levels
Customizable up to 5 cars per parking level
Variable car dimensions available as an option
Variable level height available as an option
Extended vehicle weighing capacity available as an option
Vehicle turntable available as an option
Lift or vertical transportation to the respective parking levels and for transferring the vehicle to the storage area
Safe access to the parking system without narrow ramps or dark entrances
Optimal access times
Quick parking & retrieval cycle with 99% uptime
Accommodates cars in safety
Protection from theft and damage
Operation: access control via RFID tags, touch screens
Motion sensors for human safety
Eco-friendly as no CO2 emission from the car during operation
Low operational noise (less than 65dB)
Other products in Fully Automatic Parking Systems